All contents copyright © 2010 chesterconnell.com. All rights reserved.
I am and will always be a reggae musician. There is no term for it. This style of music has influenced my whole life and will influence it in the future as well, I can't change myself. I like to mix Indian elements into my style.



I won't ever change my style from reggae to something else. I will go on with doing the reggae style. I love Reggae !

I like to listen to the old style of reggae. It is

still

played by musicians like Sizzla and other talents. I earn respect from Jamaica and give them my respect as well. There, this kind of music is part of the everyday life and has created famous people like Bob Marley. It's a religion. I tried to include this experience into my own style. They notice that I want to make this music popular all around the world. They respect me, because I don't want to copy them. I created my own style. I am doing music as an Indian, not as a Jamaican. I as an Indian would never do reggae gigs in Kingston, because it is celebrated there as a religion and you have to know the historical background.

.Apache Indian

Interviewed by Jerry Vazhayil and Sherry Kizhukandayil (Interview) Alexandra Görig and Diana Körper (Translation)
Derek Walcott.

This Caribbean man
of the world is the quintessence, the
very image of the true ascendant
Caribbean persona. In White Egrets,
Walcott eloquently expresses his
own deep truth, the truth of the Caribbean and its larger shadow, the world, then and now, in sweet, Walcottian -West Indian vernacular
.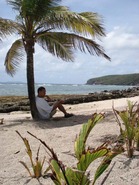 What do you think of when I say,
" Secrets of the Caribbean"?
Hidden treasure?, a secret lovers' beachfront hideaway? ... or maybe music from the caribbean that reaches the soul? Have you heard of David Kirton? How about Colin Peters? Listen to these messengers to hear a new sound emanating from the Eastern Caribbean ...